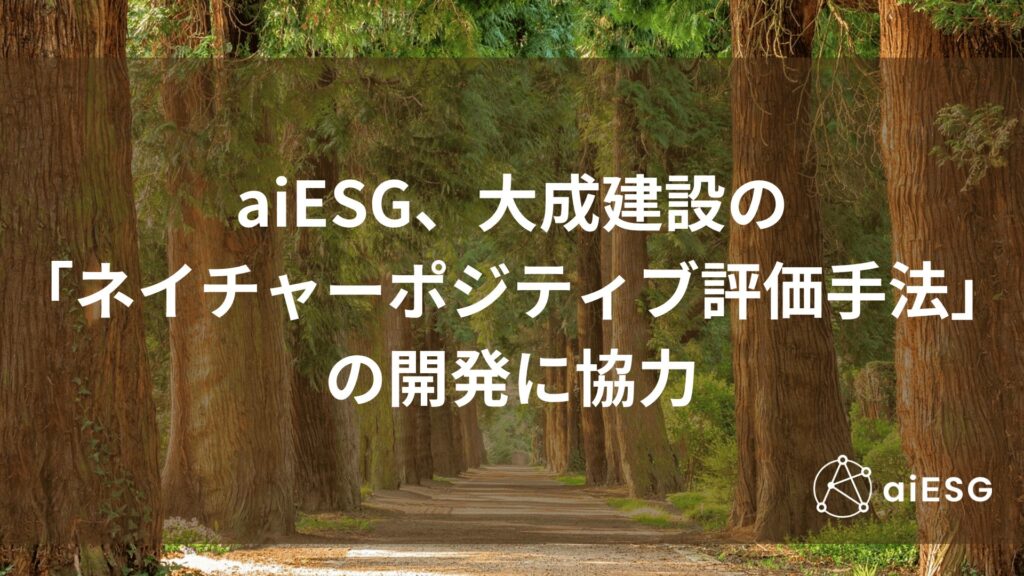 (Head office: Hakata-ku, Fukuoka; President: Shunsuke Managi; hereafter 'aiESG'), an ESG assessment company, will cooperate with Taisei Corporation (Head office: Shinjuku-ku, Tokyo; President: Yoshiro Aikawa) in developing the Nature Positive Assessment Method, which the company announced on 30 October 2023 that it had started developing.

The final recommendations of the Taskforce on Nature-related Financial Disclosures (TNFD) were submitted in September 2023. With the publication of these recommendations, companies and financial institutions are under greater pressure than ever before to assess the impacts and risks of their business activities on natural capital and biodiversity, and to disclose information more clearly on their sustainability. This is expected to accelerate the movement towards 'nature positivity', which aims to restore 'biodiversity' in the future.

The Nature Positive Evaluation Method is an evaluation method that quantitatively assesses the impact of corporate activities on the natural environment from the perspective of considerations for natural capital* and economic factors. In this initiative, Shunsuke Managi, President of aiESG, is involved in the development of the method and aims to establish it as an objectively proven evaluation method for the relationship between corporate activities and natural capital, with a special focus on construction projects.

aiESG participates in the TNFD Forum, which supports the TNFD. Recognising the importance of formulating business strategies that contribute to natural capital and appropriate information disclosure, aiESG supports the research and development of products and services that comply with ESG perspectives and the formulation of marketing and branding strategies through its comprehensive ESG assessment service for products and services, aiESG.

In addition, aiESG's analysis methods are based on reliable research results from an academic perspective accumulated over many years by the Kyushu University ESG Research Team, to which the UN report's representative author and the IPCC's representative author belong, and support ESG management through tailor-made analysis tailored to each company's needs.

Companies facing challenges in researching and developing ESG-conscious products and services, as well as in formulating marketing strategies, are encouraged to contact us.

▼ For more information on the development of the Nature Positive Assessment Method, see the announcement from Taisei Corporation.
https://www.taisei.co.jp/about_us/wn/2023/231030_9803.html
*Natural capital: the stock of resources produced by nature.


What is aiESG (aiESG), a product-level ESG analysis service?
aiESG is the world's first service to enable comprehensive ESG analysis at product and service level. AI analysis using our ESG supply chain big data enables CO2It is possible to analyse the supply chain backwards, including not only greenhouse gases, such as greenhouse gases, but also water resources, land alteration, forest area, biomass use, biodiversity and other items that have become increasingly important in recent years and are subject to natural capital assessment.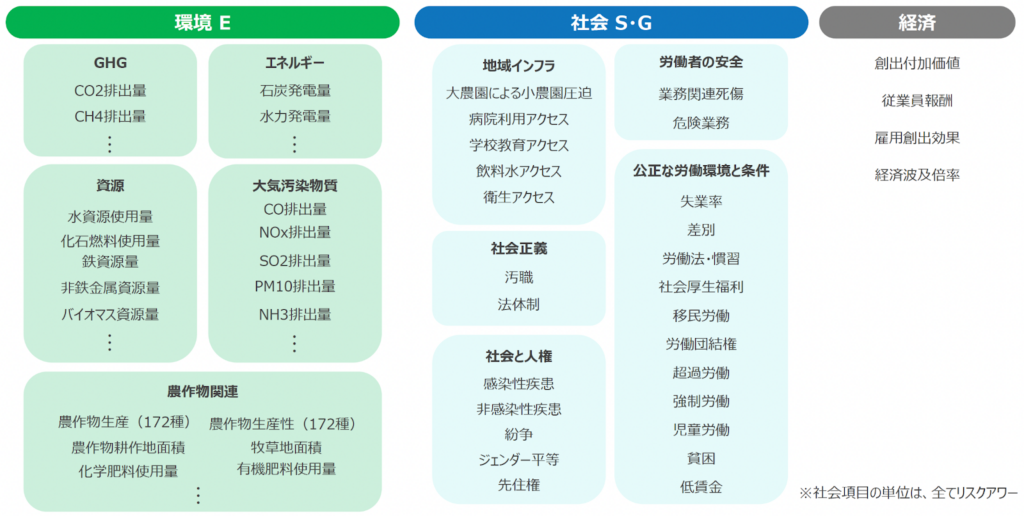 List of aiESG assessment items (excerpts)

Furthermore, analysis by aiESG enables geographical estimation, which is difficult with conventional Life Cycle Assessment (LCA), and enables visualisation of environmental, social and corporate governance hotspots, not only for direct suppliers, but also for secondary and upstream suppliers.
Dashboard image diagram

In addition, as the only data required from the customer is product cost composition data or physical quantity data, ESG supply chain disclosures, which previously required huge amounts of man-hours, are facilitated.

Click here for an introduction to our services (https://aiesg.co.jp/report/20230515_service_aiesg/)


Related articles.
[Press release] aiESG joins the Task Force on Nature-related Financial Disclosures (TNFD) Forum.
https://aiesg.co.jp/news/2309_tnfd/
[Explanation] What is the TNFD? A new bridge between finance and the natural environment
https://aiesg.co.jp/report/230913_tnfdreport/
[Commentary] TNFD disclosure status and issues.
https://aiesg.co.jp/report/230102_tnfdreport2/
[Commentary] Key points of the TNFD final recommendations and the responses required from companies.
https://aiesg.co.jp/report/231106_tnfdreport3/

About aiESG (aiESG) Ltd.
We are a start-up company from Kyushu University that aims to realise a sustainable society through product- and service-level ESG analysis. We provide aiESG, an ESG assessment platform that traces back the entire supply chain, based on the results of many years of international and academic ESG research, including UN report representatives.
Click here to visit our corporate website (https://aiesg.co.jp/)


Company profile
Name of company: aiESG Inc.
Head office: 2F NMF Hakata Ekimae Building, 1-15-20 Hakata Ekimae, Hakata-ku, Fukuoka City, Fukuoka
President : Shunsuke Managi
Business : Product/service level ESG analysis business.
HP : https://aiesg.co.jp/
Establishment : July 2022.


[For further information on this matter, please contact.
Addressed to public relations, aiESG Inc.
Email address: pr@aiesg.co.jp